35 Hudson Yards, the second residential building coming to Hudson Yards at 33rd Street and 11th Avenue in New York, will rise a few blocks north of 15 Hudson Yards and the fashionable High Line Park. Unique in its cylindrical design, 35 Hudson Yards will be one of the tallest Manhattan Luxury Condo buildings in Manhattan, rising 1,000 feet over 79 stories. In addition to the condo component, the building will include a 150-room, five-star hotel with ballroom and luxury spa. The condo will have specially designed luxury amenities to pamper residents and access to amenities at the hotel.
Designed by David Childs of Skidmore, Owings & Merrill (or SOM), 35 Hudson Yards will overlook the Hudson River and Public Square of the Eastern Yards, where 35 Hudson Yards will be one of 6 new high-rise towers. The Eastern Yards sits on over the 14 acres, 6 acres of which are a public space and park and have one million square feet of retail. The Hudson Yards redevelopment project will bring vibrant life to an entirely new neighborhood. Even access to the MTA has been included in the project with the extension of Subway No. 7 train to 34th and 11th Avenue, which is expected to open in early 2015.
35 Hudson Yard, along with 15 Hudson Yards, the only other residential building out of the 6 high-rise towers, will be two of the most interesting Manhattan Luxury Condo buildings in Manhattan, both with towering prices, interesting designs, and amazing views of the Hudson River and New York City. Developed by The Related Group and Oxford Properties, sales are expected to begin sometime next year.
Check the video below to learn more about the Hudson Yards Development.
Related Articles:
"New Development Highlight: 15 Hudson Yards"
"Hudson Yards Effect: A New City Rises"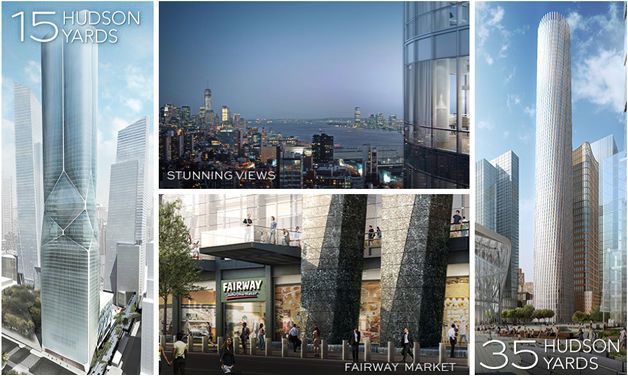 HY Platform Construction Video from Hudson Yards New York on Vimeo.