56 Leonard has recently been resurrected. A victim of the credit crisis, 56 Leonard was on the drawing board for a long time but without financing. After receiving construction financing a few months back, 56 Leonard has begun sales in New York, which we understand are off to a great start.
Designed by Pritzker Prize-winning architects Herzog & de Meuron, 56 Leonard is best described by its own architects - "houses stacked in the sky". Located in Tribeca, 56 Leonard is a 58-story glass building with 145 unique residences – each with private outdoor terraces or balconies.
Residences will feature 11-foot to 14-foot ceilings, the finest materials, and great views of NYC, the Hudson River and the East River. Since Tribeca is a low-rise neighborhood (indeed, many of the surrounding buildings are only eight-stories high), you don't need to be on the top floor of this building to have great views. Amenities include a 75' lap pool, sundeck, gym, playroom, private dining room, screening room, lounge, and lounge to name a few.
One distinguishing feature of the building will be Anish Kapoor's sculpture, which will be at the base of the building. This sculpture reinforces the building's uniqueness and is surely to be a global landmark like the Cloud Gate in Chicago's Millennium Park of which the 56 Leonard sculpture takes its cue.
Prices start around $2,000 per square foot (which we think is quite reasonable for such product), but quickly climb one you go higher in the building. The project is being exclusively marketed by Corcoran Sunshine.
Take one look at this video by Tronic Studios and you will understand why 56 Leonard is the next "It" building in Downtown Manhattan.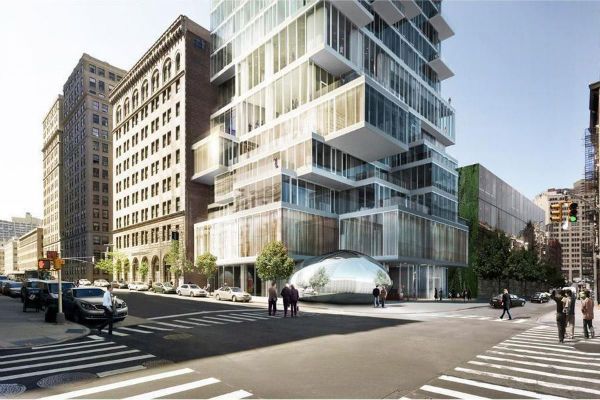 56 Leonard Street from ArchDaily on Vimeo.